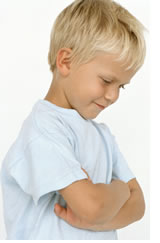 In response to increasing costs and lack of availability, UK public policy think tank IPPR argues that the UK should be looking at Denmark as a role model for its child care system.
In Denmark parents are entitled to a child care place from their child's first birthday until they start school and the system emphasises quality and not cut cutting.
The cost of child care has risen by six per cent in the last year and a family with both parents working at the average wage can expect to spend more than a quarter of their net family income on child care.
The think tank takes issue with the arguments put forward by Elizabeth Truss, the new childcare and education minister, who favours the Dutch model of childcare as a means of making childcare more affordable for parents.
The report suggests that cutting the child care benefit (similar to the CCB offered here in Australia) and reducing some benefits for pensioners would free up enough money to have a significant impact on the quality and affordability of child care.
The IPPR is urging UK Child Care Minister Elizabeth Truss to use the Danish example as a template for the UK system claiming it has many positive features which would work well in the UK, such as:
A national entitlement to a child care place with a high quality provider once a child turns one until they start school
Capped costs to parents with fee-relief available for low-income families. Parents pay a maximum of 25 per cent with a sliding scale of subsidies. Parents typically spend 7-10 per cent of their net income on child care.
A level playing field on funding and regulation, with a mix of centre-based care and child minders.
Generous parental leave provisions with parents eligible to take a full year off work after the birth of a child. Most parents receive at least six months leave at full pay which is co-funded by employers and the Government.
A highly qualified early education work force with the majority of Danish child care workers holding degrees in child development. Child care professionals also receive high wages ($AUD 38,000-$61,000).
An early childhood union which upholds professional standards and a promotes  training and development
Less statutory regulation and, and less emphasis on inspections and curriculum as a result of high quality staff.
IPPR director, Nick Pearce says the UK needs to look at different ways of doing things because the current system of child care is more expensive and more variable in quality than many other European countries.
"…we would do better to look to Denmark, where parents benefit from high quality, affordable child care but there is no additional cash payment akin to Child Tax Credit. Denmark spends only a slightly greater share of its national income on children and families than Britain, but it devotes a much greater proportion to parental leave and child care," he said.